WHAT ARE ZIGOMATIC IMPLANTS?
Zygomatic implants are longer than conventional implants. Starting at the residual maxillary bone, they are anchored to the zygomatic bone, malar bone or cheekbone. One of the distinguishing characteristics of the zygomatic bone is that, unlike the maxillary bone, tooth loss does not cause it to atrophy.
Zygomatic implants are used to secure fixed teeth in atrophic maxillary bones and help prevent complications that derive from the use of bone grafts in the maxillary sinus, nose or the alveolar ridge. Zygomatic implants are therefore the preferred option for treating tooth loss in patients who cannot have regular implants because of a lack of sufficient maxillary bone.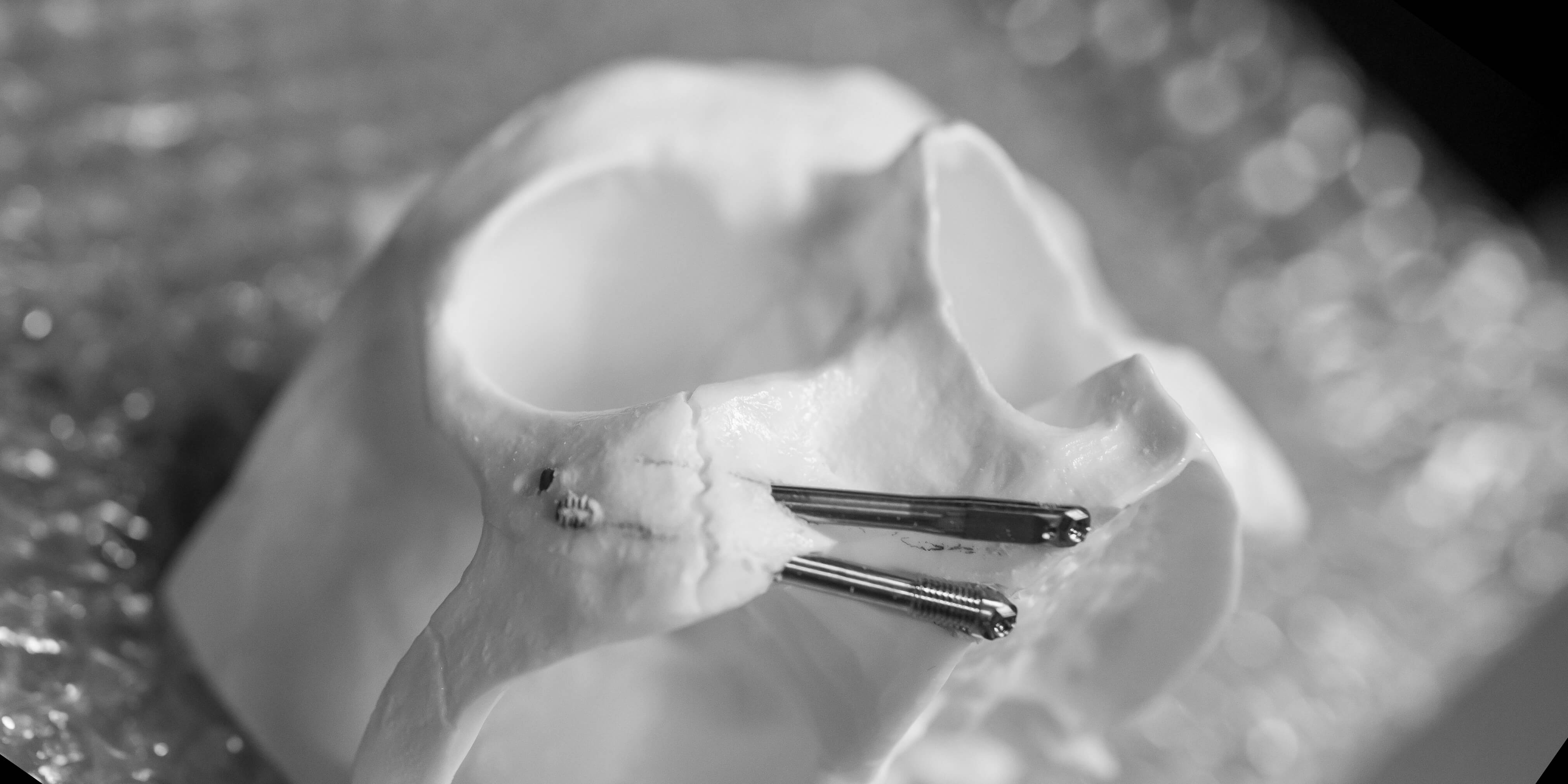 WHAT TYPE OF CASES ARE ZYGOMATIC IMPLANTS RECOMMENDED FOR?
Zygomatic implants are used as a last resource for people with bone loss in order to avoid the use of bone grafts, which are more aggressive and less predictable. When your ZZC surgeon uses the ZAGA method to place your zygomatic implants, you will benefit from having fixed teeth in just one day that are more aesthetic and similar in appearance to your original teeth. In addition to providing a better long-term prognosis, this procedure is less invasive, is specifically designed to adjust to your personal anatomical characteristics and the method makes patients less likely to encounter the complications of other zygomatic implants.
The result of the intervention was indescribable. My family and those who saw me could notice it: inflation was almost imperceptible and – literally – not a single annoyance, not a simple sedative! A few days later, Dr. Ouzzani, who had been in the surgery while she took out the stitches, asked me if she hurt me: I made a negative gesture: She never knew the tears were due to the feeling experienced: all the previous fear and I could not believe the result! For all this, I hold them in high esteem and occupy a significant place in my memory. Again, to the persons mentioned and their team, I thank you.
HOW LONG DOES IT TAKE TO COMPLETE THE TREATMENT?
After the zygomatic implants are placed, and generally within 24 hours of the procedure, patients will receive a fixed denture called an "immediate prosthesis."
The final prosthesis is created after a 4-month period of using the provisional fixed teeth, during which time a soft diet is recommended. Throughout these first few months, it is normal for the inflammation in the gums to reduce; this creates gaps between the prosthesis and the gums that get bigger over time. The final prosthesis will fill these gaps and correct other technical and aesthetic aspects.
WHAT IS THE SUCCESS RATE OF THIS PROCEDURE?
At 92%, treating tooth loss with fixed prosthesis anchored on zygomatic implants has a very high 10-year success rate. With new developments such as the ZAGA method, these implants now improve patients' prognosis by reducing the number of related complications.
WHAT DIAGNOSTIC TESTING IS NEEDED?
In addition to an intraoral examination, a panoramic X-ray is generally needed as well as an X-ray computed tomography, such as a Cone Beam CT. These tests do not eliminate the need for other medical tests.
CAN THERE BE COMPLICATIONS?
As with all surgeries, there is always a potential for complications, so you should ask about your specific case in order to be informed of these in detail. Generally, however, the ZAGA method prevents oro-antral communication-related complications, which are common with other methods. Compared to traditional zygomatic implant techniques, the dental prosthesis used in the ZAGA method takes up a natural space in the mouth, as its dimensions are very similar to those of original teeth, which helps improve aesthetic aspects, maintenance and hygiene.
WHAT CAN BE DONE IF AN IMPLANT IS NOT SUCCESSFUL?
There are few options to deal with the unsuccessful placement of a zygomatic implant. It is our firm belief that in the great majority of cases, patients who lose their teeth and have severe atrophy in their maxilla have only ONE opportunity to treat this tooth loss with fixed teeth, so the process has to be performed right on the first try. This is why it is best to rely on a center that is highly specialized in the restoration of extreme maxillary atrophy with zygomatic implants.
On November 28th,  the intervention took place with success (20 years ago). I was the second person to undergo this intervention. When the final prosthesis was placed after about a year, it felt like a dream to me. I only have words of gratitude to Dr Aparicio, for giving me the opportunity of this dream that changed my life, and for all the follow-up and attention. Also for your team and all the staff, they are great.
WHAT TYPE OF TEETH WILL I HAVE AFTER THE PROCEDURE?
After the zygomatic implants are placed, and generally within 24 hours of the procedure, patients will receive a fixed denture called an "immediate prosthesis." The process of permanently screwing-on teeth to the implants immediately after the operation for implant placement is called "immediate loading." With this process, patients must have an understanding of the biological process of bone tissue repair, along with the technical aspects that must be considered for this immediate prosthesis. The general recommendation is for patients to maintain a soft diet and not smoke for approximately four months.
ARE THERE DIFFERENT WAYS OF PLACING ZYGOMATIC IMPLANTS?
There are various techniques that can be used to place zygomatic implants, as well as different types of zygomatic implants. Not all techniques for placing implants in the cheekbone nor all types of zygomatic implants will achieve the same results.
Unlike other methods, the ZAGA method for placing zygomatic implants uses a minimally-invasive osteotomy and an individualized pathway for each patient that usually includes part of the maxillary sinus and reaches towards the zygomatic malar bone, where it is anchored.