Senior Consultant Zygomatic Implants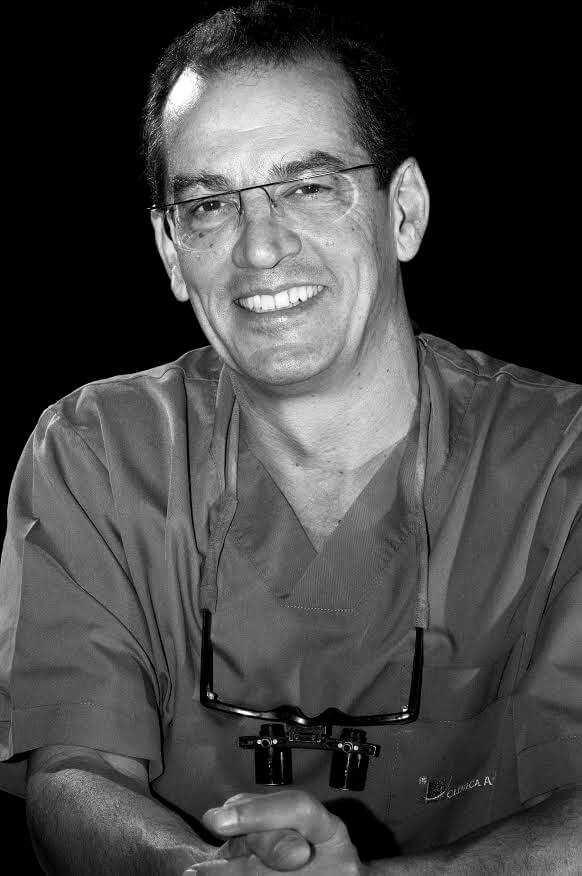 Me llamo Carlos Aparicio y nací en 1953. Casado con Mónica, también médico odontóloga y máster en Periodoncia, tenemos 5 hijos. Los 4 mayores repartidos en lugares tan dispares como Paris, New Orleans, Chicago o Miami. El pequeño Lucas vive con nosotros y es el juguete de la familia. Me siento privilegiado por muchas cosas, especialmente por la familia y los amigos que tengo.
Tengo el privilegio de haber creado en 1985 el primer centro dedicado en exclusiva a la rehabilitación de la desdentación mediante prótesis fijadas al maxilar por implantes. Hoy, trabajo para expandir la filosofía ZAGA, y doy soporte a los expertos de Zygoma Zaga Centers, ocupándome de los pacientes con atrofia ósea y gran pérdida de hueso. Como por arte de magia, hoy somos capaces de devolver, sin injertos y bajo anestesia local, una dentición fija en 24 horas a un paciente sin hueso maxilar. Magia, si tenemos en cuenta que si bien hace unos años este proceso requería mas de un año de tratamiento, injertos óseos, anestesia general y un periodo mínimo de dos meses sin dientes, hoy devolvemos al paciente una dentición fija, sin apenas trauma y con excelente pronóstico en pocas horas.
Me considero privilegiado también por haber podido devolver a la profesión una pequeña parte de lo que ésta me ha dado a mi. Esto lo he conseguido compartiendo con mis compañeros en beneficio de los pacientes, mis años de investigación en varios temas relacionados con los implantes y especialmente escribiendo el libro de texto: "Zygomatic Implants. The Anatomy-Guided Approach" y una tesis doctoral, recién publicada "On Zygomatic implant based oral rehabilitation. The state of the art and proposed criteria for success".
Me gusta el mar y los deportes de vela : windsurf, vela ligera y la regata de cruceros. Practico con regularidad Bickram Yoga. Disfruto con la música, la pintura y especialmente con el arte que me permite usar varios sentidos como la escultura.
Carlos Aparicio
MD, DDS, DLT, MSc, MSc, PhD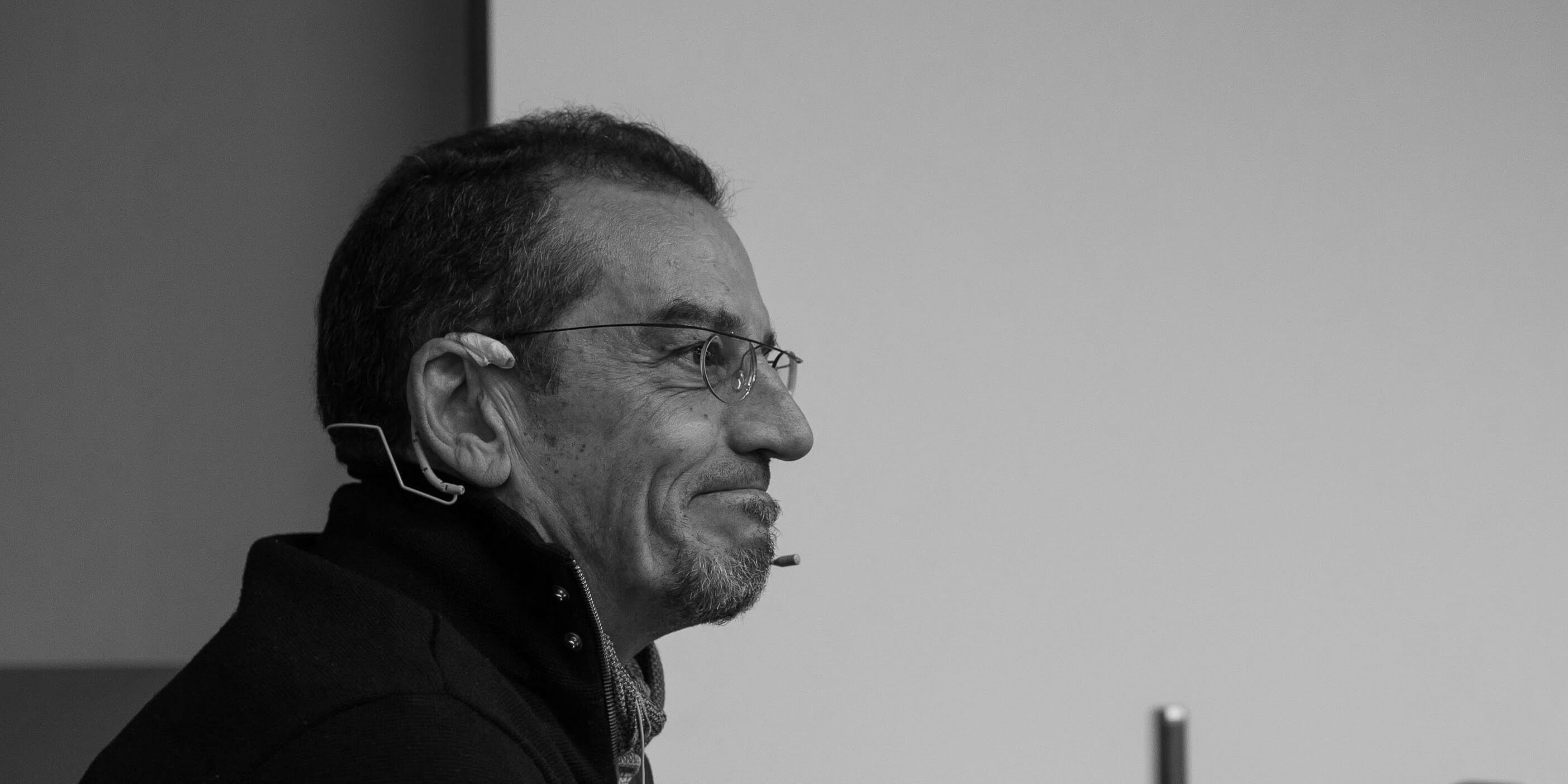 Nacido en 1953 en Tarazona, Zaragoza. Pasa su infancia y juventud en Pamplona, Navarra.
Licenciado en Medicina y Cirugía por la U. de Navarra con sobresaliente cum laude en 1978.
En 1978 obtuvo plaza de Médico Titular en la Seguridad Social ejerciendo como médico de familia hasta 1981.
Estomatólogo por la U. de Barcelona en 1983.
Técnico de Laboratorio Dental en 1983.
En 1984, se certifica en implantes Osteointegrados en la Gothemburg University ( Prof. P.I. Brånemark tutor).
Su formación en implantes, prótesis y estética dental se completa en EEUU (Mayo Clinic; University South California; University of California Los Angeles), Canada (Toronto University), Suiza (Geneva University), Suecia (Gothemburg University; Salgrenska Hospital; County Council Clinic – Stokholm y Malmo University).
Master en Ciencia de Materiales por la U. de Barcelona en 1990.
En 1997, recibió el Diploma in Periodontics por la Gothemburg University (Prof. Jan Lindhe tutor).
Master en Investigación Biomédica por la U. de Barcelona en 2010.
En 2013 defiende su tesis doctoral, con mención internacional PhD, titulada " Zygomatic implant based rehabilitation. The state of the art and proposed criteria for success" con sobresaliente Cum Laude.
Ha sido profesor visitante de la U. de Barcelona, la U. de Oviedo y la U. Internacional de Catalunya.
Nombrado en 1997 Profesor honorario del Centre de Perfecctionement en Odonto-Stomatologie, Provence-Côte d'Azur.
Autor de numerosos artículos científicos en revistas internacionales indexadas y de varios capítulos de libros.
En 2005 describe por primera vez la técnica extrasinusal para colocar implantes cigomáticos.
En 2011 describe la evolución de su técnica extramaxilar hasta su nueva técnica ZAGA ( Zygoma Anatomy – Guided Approach ) para colocar implantes cigomáticos.
Editor del libro Zygomatic Implants: The Anatomy-Guided Approach Ed. Quintessence2012.
Dictante de numerosos cursos nacionales e internacionales.
Ha recibido el premio Fonseca, máximo galardón de la Sociedad Española de Periodoncia, tres veces; el premio anual Simo Virgili, de la Societat Catalana de Odontoestomatología, dos veces; el premio de la Fundación Soproden; así como el Premio al Mejor Curso otorgado por el Colegio de Dentistas de Córdoba y otros premios en diferentes congresos.
Es Fellow researcher at the Handicap Research Group, Department of Biomaterials, University of Gothemburg (Prof. Tomas Albrektsson tutor).
Consultor del Grupo de Biomateriales de la U. Politécnica de Barcelona.
Past-editor de la versión castellana del European Journal of Implant Dentistry, es además consultor científico (referee) de las revistas European Journal of Oral Implantology y Clinical Implant Dentistry and Related Research.
Past-President of the Osseointegration Foundation of the American Academy of Osseointegration (AO).
Entre 2003 y 2005, sirvió como Board member of the European Academy of Osseointegration (EAO).
En 2007, fue presidente de la reunión anual de la EAO.
Es el Presidente honorífico y Fundador de la Sociedad Española de Odontología Mínimamente Invasiva.
Director en conjunción con la U. de Barcelona y la U. de Gotemburgo del programas en Zygomatic Implants.
Responsable, junto a la Fundación Vicente Ferrer, entre otras obras, de la construcción de viviendas y del centro de Neonatos del Hospital de Bathadapali, India.
Nombrado Académico Correspondiente de la Real Academia Europea de Doctores en 2016.
El Dr. Aparicio dirige la web www.apariciozygomatic.com dedicada a la consulta y diagnostico de problemas relacionados con la atrofia maxilar severa.
Presidente del International Network of ZYGOMA ZAGA CENTERS y del International Zygoma Team of Surgeons. www.zygomazagacenters.com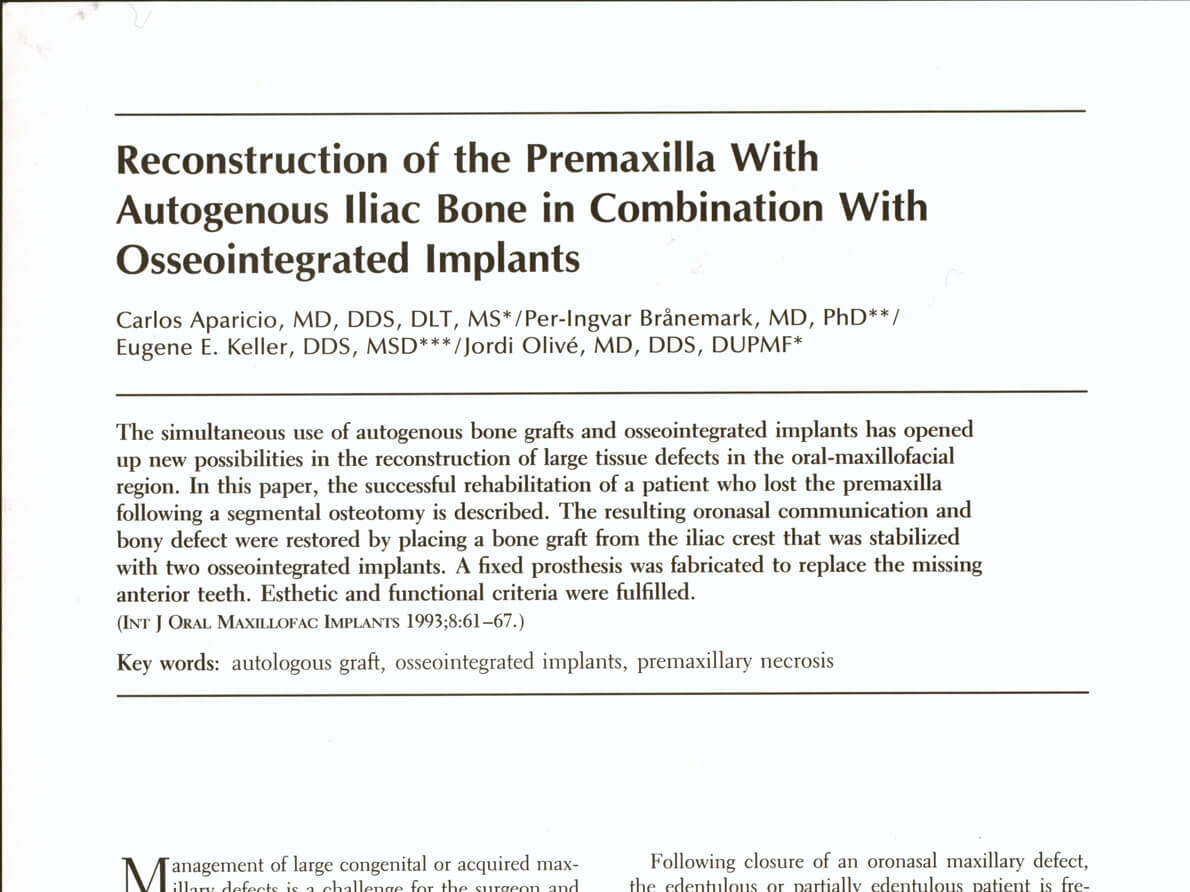 Aparicio C., Branemark P.I., Keller, E.E., Olivé J. Int.J. Oral and Maxillofac. Implants 1993; 8:61-67.
El implante trans-zigomático
Aparicio C., Malevez C. "El implante trans-zigomático". RECOE. 1999: 4;2: 171-184.
A prospective clinical study on titanium implants in the zygomatic arch for prosthetic rehabilitation for the atrophic edentulous maxilla with a follow-up of 6 months to 5 years
Aparicio C., Ouazzani W., García R., Arévalo X., Muela R., Fortes V. Clinical Implant Dentistry and Related Research Volume 8 number 3, 114, 2006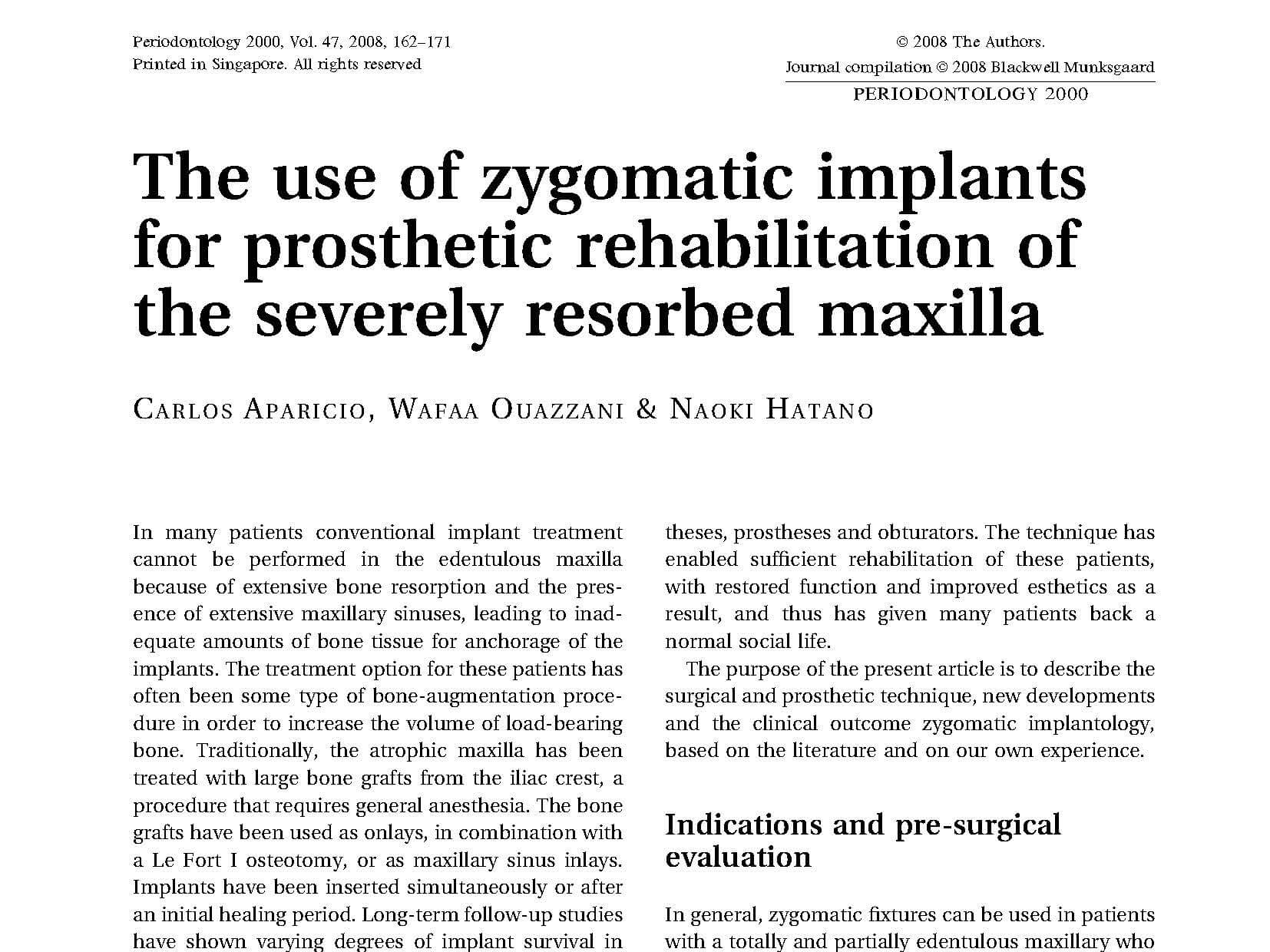 The use of zygomatic implants for prosthetic rehabilitation of the severely resorbed maxilla
Aparicio C, Hatano N, Ouazzani W. Periodontol 2000, 2008;47:162-171.
Extrasinus zygomatic Implants: Three Year experience from a new surgical approach for patients with pronounced buccal concavities in the edentulous maxilla.
Aparicio C, Ouazzani W, Aparicio A, Fortes V, Muela R, Pascual A, Codesal M, Barluenga N, Manresa C, Franch M. Clin Implant Dent Relat Res 2010(a) Mar; 12(1):55-61. (Epub 2008 Dec 3)
Immediate/early loading of zygomatic implants: clinical experiences after 2 to 5 years of follow-up
Aparicio C, Ouazzani W, Aparicio A, Fortes V, Muela R, Pascual A, Codesal M, Barluenga N, Manresa C, Franch M. Clin Implant Dent Relat Res 2010(b)May; 12 Suppl 1:e 77-82. (Epub 2008 Dec 3)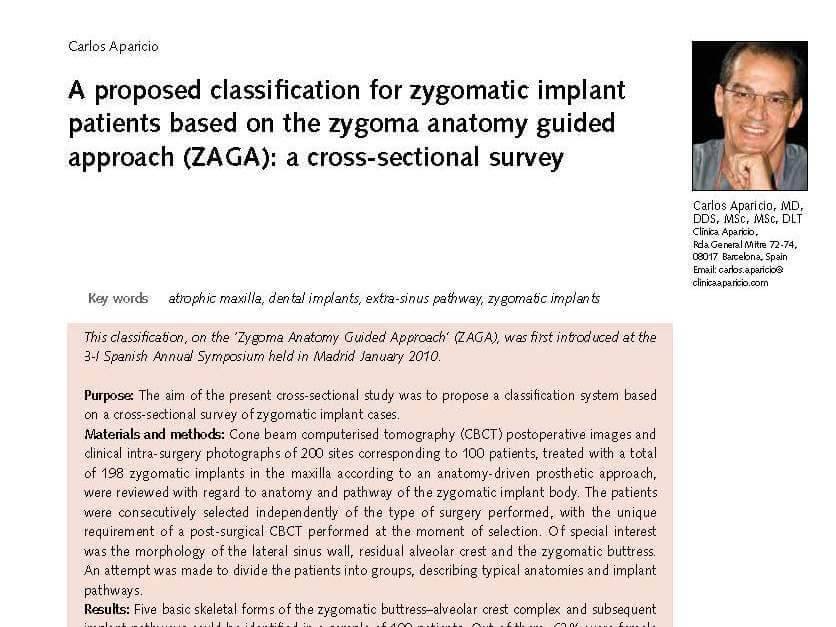 A proposed classification for zygomatic implant patients based on the zygoma anatomy guided approach (ZAGA): a cross-sectional survey
Aparicio C. Eur J Oral Implantol 2011;4(3):269–275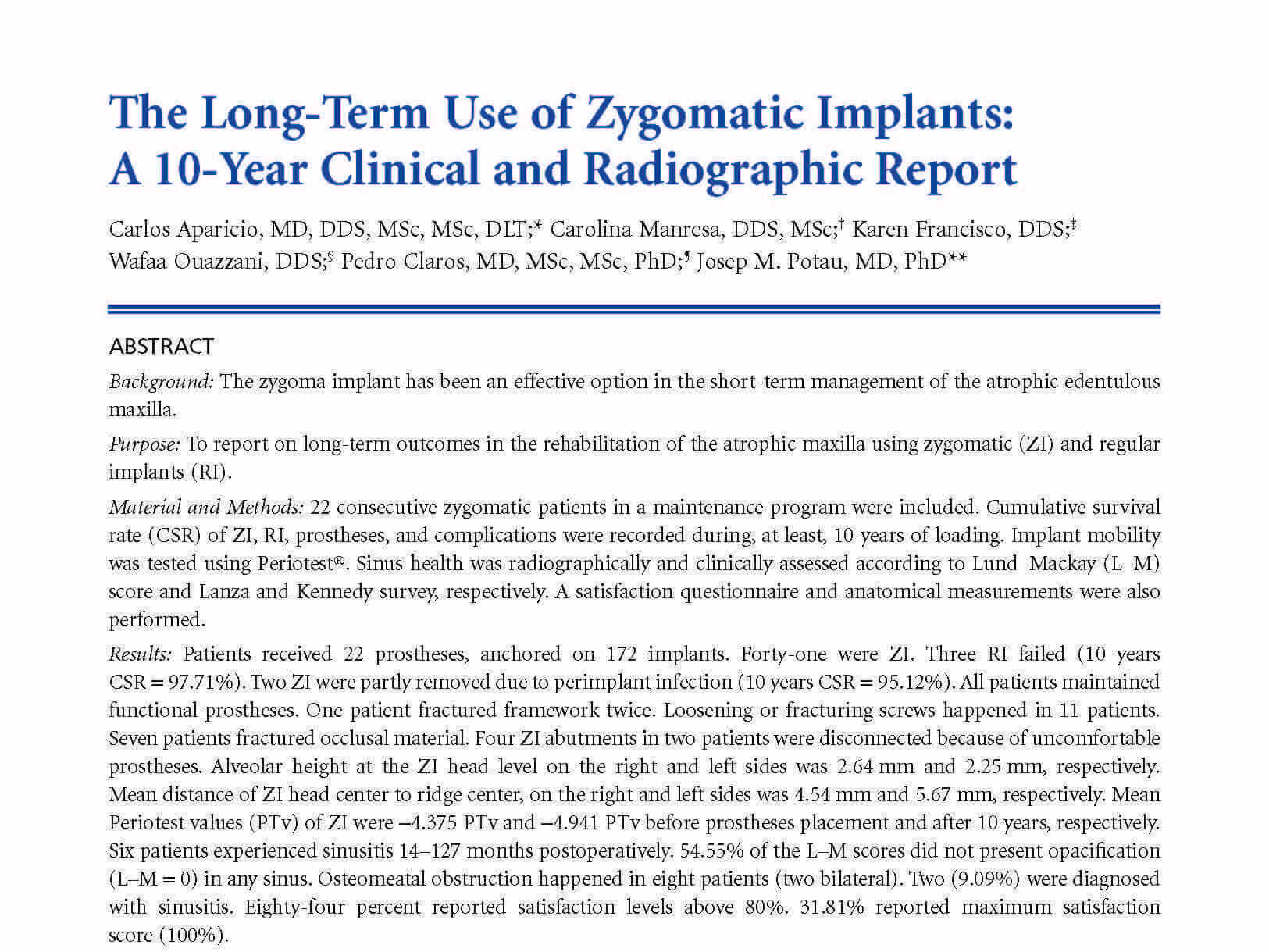 The long-term use of zygomatic implants: a ten-year clinical and radiographic report
Aparicio C, Manresa C, Francisco K, Ouazzani W, Claros P, Potau JM. Clin Implant Dent Relat Res E pub 2012 November; DOI 10.1111/cid.12007
Zygomatic implants placed using the Zygomatic Anatomy-Guided Aproach versus the Classical Technique. A Proposed System to Report Rhino-Sinusitis Diagnosis.
Aparicio C, Manresa C, Francisco K, Aparicio A, Nunes J, Claros P, Potau JM. Clin Implant Dent Relat Res E pub 2013; DOI 10.1111/cid.12047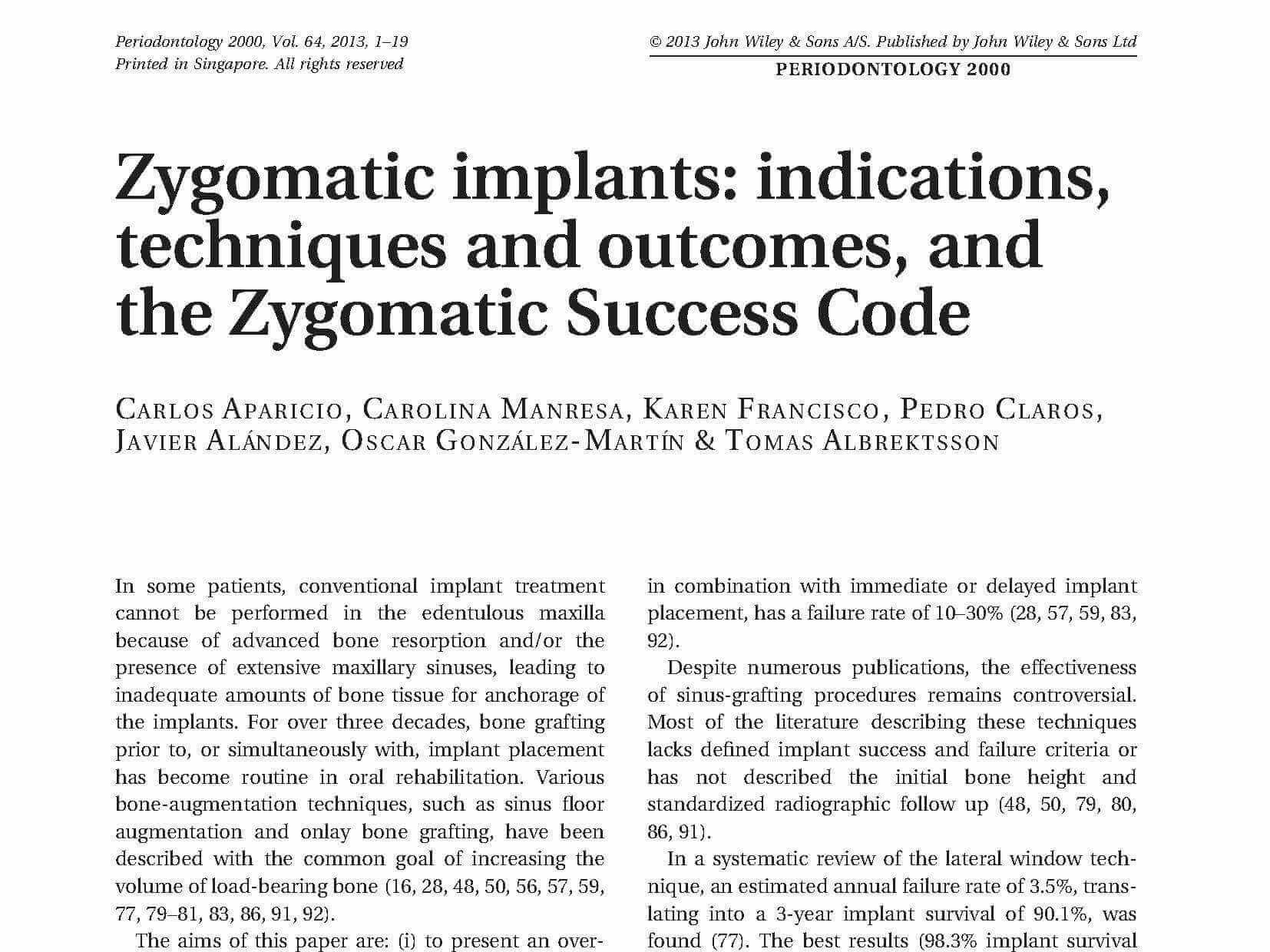 Zygomatic Implants: Indications, Techniques & Outcomes. Zygomatic Success Code (ZSC)
Aparicio C, Manresa C, Francisco K, Ouazzani W, Claros P, Alandez J, Albrektsson. Periodontology 2000; 2013